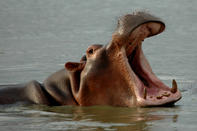 © Karl Svendsen
Visit this KwaZulu-Natal estuary and see the largest Hippo population in South Africa wallowing in the warm waters and preparing for night-time forages on the grassy coastal plains of iSimangaliso Wetland Park.
Prepare for an escape into pristine natural surroundings when you visit the shores of Lake St Lucia which is Africa's largest estuarine system. Nature lovers will find a wonderland of glistening water surfaces, lily-covered pans, grasslands and lush forests. This area experiences around 300 days of sunshine a year for superb holiday activities at any time.
St Lucia Wildlife
The estuary is home to at least 800 Hippos who dominate this area. They share a complex inter-linking eco-system with more than a 1 000 Crocodiles and an amazing array of birds. The wetland waters are wonderfully fertile and teeming with mud prawns, shrimps, fish and all kinds of aquatic life. Birds that can be spotted include Pelicans, Fish Eagles, Kingfishers, Great White Egrets, Eastern Golden Weavers, and Goliath Herons.
St Lucia Activities
It takes a few days to truly explore the various eco-systems that combine so beautifully at St Lucia. One of the best ways to see the lake and estuary is on a boat safari - there will be many photographic opportunities. On a cruise you'll be able to get really close to the Hippos in the water and sun-loving Crocs resting on the estuary banks, while keeping an eye out for birdlife.The boats are designed for estuary cruising in shallow water and the knowledgeable staff provides information on the workings of the St Lucia estuary. You'll be able to relax in your seat on board and cruise quietly along the water surrounded by nature. The boats have licensed bar services and toilets. Catering can be arranged for groups and functions.St Lucia is a haven for fishing and bird watching as well as self-guided walking trails. You can explore this area on guided kayak safaris, deep sea fishing charters or marine tours plus horse-back trails and night drives are available. There is also a Croc Centre, Snake Park and a cultural village to investigate. Seasonal activities in this area include Whale watching and Turtle nesting tours.
Where to Stay
Makakatana Bay Lodge
is situated on the banks of Lake St Lucia in a secluded dune forest, within iSimangaliso which is a World Heritage Site. Enjoy 4-star comfort and a warm welcome at this privately owned safari lodge.This intimate lodge has a restaurant, bar, character wine cellar, pool and a boma or outdoor enclosure for meals under the stars. Activities on offer include twice daily wetland drives, boat safaris on Lake St Lucia, beach safaris and Big Five game drives. Other exciting excursions available include fishing, diving and snorkelling, cultural and sightseeing tours, horse riding and seasonal Whale / Turtle tours.