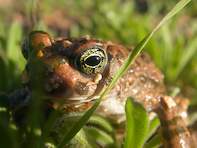 In the who's who of the froggy world each individual's loudly announced croak, whistle, grunt or squeak is unique! Find out more on a frogging safari in KwaZulu-Natal - your kids will love every minute of this watery adventure.
Who would have thought that such tiny creatures could generate such a noise? Believe it or not some of them are just 3mm long. South Africa is home to nearly all frog species found in Southern Africa, and northern KwaZulu-Natal has almost half of that figure - more than 40 species in fact.In the rainy season every pond and puddle becomes a potential love nest for male frogs who call incessantly for a willing mate. At night, this clamour in the bush is just a barrage of sound until you can learn to distinguish between the calls, which is all part of the fun on a frogging safari.
The Experience
The best time to enjoy this adventure is between November and March during the rainy season. The frogs are most active at night so a night safari is a great way to investigate all the top spots. Your ranger or guide will take you on a game drive to the area or you could set off on foot from the lodge. Wearing boots or wellingtons and a head torch is ideal for this excursion.You'll spend time looking into ponds, puddles and waterholes, and listening for the direction of various calls. Your guide will share information with you about what you find and give you guidance on 'frog etiquette' such as not disturbing mating pairs. The bright colours and patterns on the frogs can be quite exotic - you may encounter the Water Lily Frog, Painted Reed Frog, Red-Legged Kassina (also called the Red-Legged Running Frog), and the Leaf- Folding Frog.
Where to go
AmaKhosi Safari Lodge
The AmaKhosi Private Game Reserve is located on the banks of the Mkuze River in Zululand. The lodge has 6 lovely riverside suites. You can enjoy Big Five and Cheetah viewing and a range of excellent activities such as game drives and bush walks, seasonal frogging, birding, Zulu cultural interaction and massage therapy.
Emdoneni Lodge and Cat Rehabilitation Centre
Emdoneni is located near Hluhluwe and is surrounded by wetlands and reserves. Enjoy accommodation in a range of chalets and rondavels plus great activities such as tours of the re-hab centre for wild cats, guided walks, Big Five game drives and exciting excursions to local highlights. There is a great kid's programme with all kinds of fun activities including finding frogs.
Phinda Private Game Reserve
Phinda features 7 different habitats, Big Five and Cheetah viewing plus a huge array of activities to tempt visitors of all ages and interests. This exclusive reserve is a luxurious escape with bush and beach appeal. You can arrange a wonderful private family safari where all activities are tailor-made. Accommodation options for families include Forest Lodge, Mountain Lodge, Vlei Lodge and 2 lodges for sole use, Zuka Lodge and The Homestead.