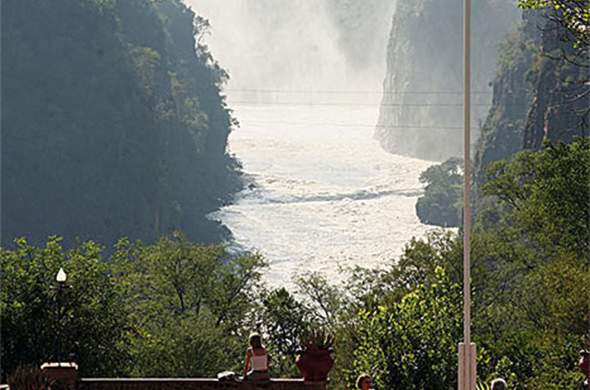 © Victoria Falls Bridge links Zambia and Zimbabwe
The history of Victoria Falls Bridge is more than a 100 years old. This magnificent landmark celebrated its Centenary in 2005. The graceful steel structure spanning the gorge opened up central Africa for goods and traffic.
Photo: Brett Hilto-Barber
Cecil John Rhodes had the original vision of linking what is now Zimbabwe to Zambia, and in 1900 he commissioned the building of the Victoria Falls Bridge.
Rhodes famously said that he wanted the railway bridge to cross the
Zambezi River just below Victoria Falls
so that the spray would fall over the carriages - he actually did not live long enough to visit the falls and died before construction began.
The bridge was designed by George A. Hobson from the firm Sir Douglas Fox and Partners, Consulting Engineers. He was assisted by a certain Ralph Freeman, who later in life became involved in the design of the Sydney Harbour Bridge as well as
the Birchenough Bridge
(Sabie River, Zimbabwe).There were many considerations with regard to building a structure of this nature, which would require construction without scaffolding. A single-span steel arch was chosen as it met all the requirements and would not detract from the beauty of the site. The bridge was constructed from both sides of the gorge and then joined in the middle.
The building of
Victoria Falls Bridge
began in 1904 and after 14 months reached completion in 1905. The bridge is located at the second gorge and has wonderful views of the gorge itself on one side and the falls on the other.
The Victoria Falls Bridge is 128 metres above the valley floor, giving visitors a spectacular view of
the green Zambezi River
below, the dark rock face and lush foliage. It is 250 metres wide with the main arch spanning 156.5 metres.For more than 100 years, this bridge has been the only rail link from
Zimbabwe to Zambia
and has also carried vehicles and foot traffic. The gorge is actually considered to be no-mans land and has border posts on either side. From the Zimbabwean side the road leads on to the town of Victoria Falls, and on the Zambian side to Livingstone.
Traffic across the bridge still continues but at a reduced rate, with heavier vehicles like trucks travelling via other routes.
The Victoria Falls Bridge
is now receiving visitors of a different kind - those who would leap off it to the shouts of "BUNGI".Victoria Falls and Livingstone have become the place to be for adventure in Africa. This exceptional bridge is now the
site for Bungi Jumping
from a height of 111 metres. Thousands of visitors come every year to enjoy the beautiful views and watch the adrenalin addicts leap off the bridge with a giant rubber cord secured to their ankles!
This is certainly a novel way to view the gorge and Victoria Falls, although Cecil John Rhodes could never have envisioned it. Visitors come from all over the world to make the big jump, take home the T-Shirt and
great memories of Africa
of course!