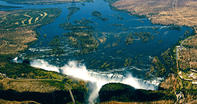 At Siyabona Africa we have a wide range of Victoria Falls Tours and Packages suited for all types of travellers. Known as the 'Smoke that Thunders', this iconic attraction is not to be missed. Getting closer to the falls, you will hear it and feel it, well before you actually see it. The powerful rumble and the spray is quite intense and adds to the exhilaration feeling of finally being so close.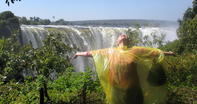 You will find yourself truly spoilt for choice when it comes to Victoria Falls. From white water rafting, trekking, kayaking, zip wiring, abseiling, horseback riding, bungee jumping and helicopter rides, this is a thrill-seekers haven. If you might prefer some good old vegetating with an ice-cold drink in your hand, there is more than enough opportunities to do that too, especially on the sunset cruises along the Zambezi River.
Even if you don't consider yourself an active traveller, a Victoria Falls tour presents you with a once-in-a-lifetime opportunity to try something completely new. It won't be long before you find yourself stepping out of your comfort zone as you whizz through the air strapped to harness, almost as though you are actually flying.
If you are hoping to do some added wildlife viewing, a Victoria Falls tour is best combined with the wildlife attractions of Chobe and the Okavango Delta in next-door Botswana or the South Luangwa and Lower Zambezi National Parks in Zambia.
While we do offer set tours and packages, our Africa Destination Specialists are experts at crafting a tailor-made African safari to match your needs, budget and requirements.
Get in touch
and we would be delighted to help you get started on planning the perfect South Africa safari holiday.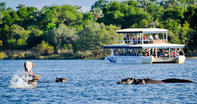 This 5-day Best of
Victoria Falls and Chobe Safari Package
takes you from the natural wonder of the Victoria Falls to the wildlife abundant Chobe in Botswana. Enjoy a traditional boma dinner and feel the spray of the waterfall in Victoria Falls. Cruise along the Zambezi and Chobe River and embark on 4x4 game drives in Chobe National Park.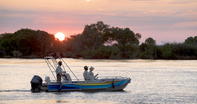 This 7-day luxury
Victoria Falls and Hwange Safari
is all about big water, big game and small intimate safari lodging. Experience the rumble of Africa's main attraction - the mighty Victoria Falls, then fly into Hwange National Park where the elephants are the stars of the show. Embark on thrilling game drives, relaxing sunset river cruises and fireside meals under the African sky.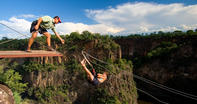 Calling all adrenaline junkies and thrill seekers! Test your daring on the high wire above the mighty Zambezi. Feel the rush while doing the gorge swing. Take on the Zambezi River while on one of the most challenging white-water rafting routes in the world. Our 4-day
Victoria Falls Adventure Package
includes an adventure pass that lets you choose your activities once you are in Victoria Falls.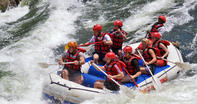 This 3-day
Vic Falls White Water Rafting Adventure
Package is ideal for thrill seekers who wish to enjoy a challenging White Water rafting trip and take in the splendour of the mighty Victoria Falls. he trip passes through various rapids, which are grade 5 rapids where you will experience white-water, medium waves, maybe rocks, and sharp manoeuvres may be needed.