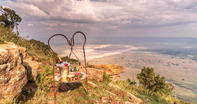 A travel guide to the Ngorongoro Crater Conservation Area and Ngorongoro Crater region in Tanzania.
Ngorongoro Crater - an Eden over time
Much has been written of the Ngorongoro Crater and its unique eco-system but it is only when sitting in the middle of the crater surrounded by the rising walls on all sides that the real effect is appreciated. Here a hole in the ground formed by a volcanic explosion, and covered over time in wind-blown earth and vegetation, has developed into a natural wild life theme park.The vegetation and landscapes in the crater represent most of the eco-zones of northern Tanzania and include forest, grassland, swamp and lake. It is almost as if the crater was developed to protect the various aspects of the Tanzania wilderness in the event of some natural catastrophe. Reality programs of today, in the striving for better viewer ratings, would struggle to set up something so unique.
What is the Ngorongoro Crater in Tanzania and how was it formed?
It is believed that there was a mountain in Africa that was higher than Kilimanjaro, Africa's highest point at present, and that like many mountains in the area it was volcanically unstable leading to a great eruption that sent lava spewing for hundreds of miles around. Much of this lava settled on the plains to the north of the now gaping mountain.Over time wind-blown dust and seeds settled in the hole left by the explosion and plants began to grow in the shallow ground. Nutrients did not have far to sink thus keeping the soil fertile and the plants rich in nutrients.With the steep-sided walls of the crater ensuring a high runoff from rain and mist the crater has sufficient water to provide for the wildlife in a lake and swamp area. The lake, with its high nutrient content, provides rich feeding for thousands of flamingoes that flock to the crater and the swamp provides greenery and water year round.
Ngorongoro Crater Lodges
See Ngorongoro Crater Safari Lodges in Tanzania.
There are estimated to be about 24 000 animals inhabiting the crater at any one time - most of which are permanent residents. Often thought to be a natural enclosure it is now known that a large percentage of wildebeest and zebra leave the crater during the rainy season.
Lions however have had very little input from outside the crater over the years and this has led weakening of the crater gene pool, causing a great deal of problems with the lions