Places in Windhoek
Windhoek is the capital of Namibia and is a pleasantly small city with interesting markets selling African drums and woodcarvings from the north, while elegant shops offer quality leather goods and quality gemstones. Windhoek is a cosmopolitan city with excellent hotels, restaurants, shops, banks and hospital facilities.

Windhoek is an ideal centre from which to explore the surrounding countryside. The city is also the starting point for tours by car, motor coach or fly-drive to every part of the country. Most importantly Windhoek is home to Namibia's brewing industry, and for the less active Windhoek is a great place to wile away the time while enjoying a refreshing cold beer. The Oktoberfest takes place in October every year.

Attractions in Windhoek include Alte Feste which houses the National Museum, the Christuskirche, which is a beautiful historical monument, originally built in 1910 to accommodate the German Lutheran Congregation and the Heinitzburg Castle. See below recommended Windhoek hotels and accommodation in Namibia. Windhoek is also the starting points for most Namibia safari tours.


Namibia
Central Namibia : Windhoek

This Namibia hotel has a great deal more to offer guests than its remarkably convenient downtown Windhoek location. The Casino
GocheGanas Nature Reserve & Wellness Village is situated in central Namibia, a mere 29km south-east of Windhoek on a Private Nature Reserve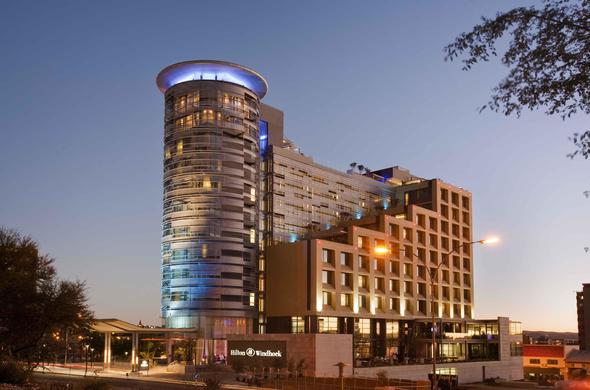 The Hilton Windhoek Hotel in Namibia is a stylish and contemporary hotel that offers comfortable Windhoek accommodation in the heart of the city
Hotel Heinitzburg is one of the few Windhoek Hotels overlooking the Khomas Highlands in Namibia, providing guests wonderful accommodation
Cool off in the refreshing swimming pool sipping a cocktail, relax and enjoy your business or holiday trip in Namibia. Being one of the most well known hotels
This Windhoek B&B is the perfect accommodation for those in need of relaxation. Jordani Bed & Breakfast is perfectly suited for visitors, business travellers and families looking for accommodation in Namibia
This award-winning Namibia safari lodge near Windhoek is an eco-friendly destination with an interactive range of wildlife encounters and village tours
Olive Grove Guesthouse is a quiet, luxurious small Windhoek hotel near the city centre for guests on a holiday in Namibia.
Centrally located and offering warm and welcoming hospitality, this hotel in Windhoek is the perfect business stopover or base for a holiday in Namibia
Protea Hotel Thuringerhof in Windhoek is centrally located and walking distance from shops and the centre of the capital city of Namibia. This hotel
Safari Court Hotel is a Windhoek hotel in Namibia located on the edge of the vast Namibian wilderness and pulsating capital of Namibia.
Windhoek Country Club Resort is a true haven of charm and hospitality, with exceptional service, superb conference facilities and luxury accommodation