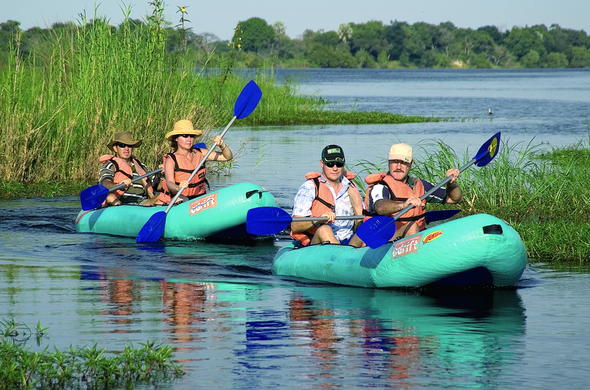 Canoeing above the Falls gives a great view of the "smoke that thunders", as well as the beauty of the riverside and its animal life.
Whether you are an avid bird watcher, wildlife fan, or just want to experience the peace and tranquility of the river, an "above the Falls" canoe trip is a great way to get to know the islands and inlets of this remarkable area.Canoe trips are conducted in a variety of canoe types, from Native American Indian-type canoes to stable inflatable canoes, all offering safe, close-up viewing of wildlife and birds.They may be self-paddle or you may be paddled by a guide. Canoe trips are typically available in half-day, full-day, sunset and overnight excursions. Be aware of hippos and crocodiles and do not approach either.Canoe trips depart from both the Zimbabwean and Zambian sides of the river. A variation on the theme is the "booze" canoe, which is a gentle canoe trip in which you sit and watch the scenery go by while being paddled to beautiful locations where - as the name implies - cocktails are offered. It's a great way to bird- and game-watch. Be sure when booking to inform the agent of your preferred drink.The "booze" canoe - or "wine route" as it's sometimes billed - is available only on the Zimbabwean side of the river. There are several canoeing options on the river including the "wine route" canoe experience and traditional game viewing.
White Water Canoeing
White water canoeing is a variation of the normal canoeing trip - it incorporates flat water canoeing with shooting some rapids. These range from the mildly thrilling Class 1 to the exhilarating Class 3 variety. These trips are done in inflatable canoes and are best experienced during the dry season when the river level is at its lowest and the rapids at their most exposed.
There are half-day, full-day and multi-day options available. The multi-day option, with an overnight camp in the bush, is highly recommended, as this involves a night under the stars in the Zambezi National Park.
Brett Hilton-Barber and Lee R. Berger. Copyright © 2010 Prime Origins.