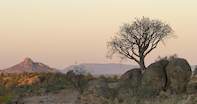 Erongo is a region in Namibia stretching from the Central Plateau across to the Central Namibian coast in the west, with the Ugab river being the northern border and the Kuiseb river the southern border, comprising approximately 7.7 percent of Namibia's total area.
The Erongo region derives its name from the impressive 2030m above sea level Erongo Mountain Range, an eroded volcano that was active some 140-150 million years ago. Possibly the most famous distinctive landmarks in the Erongo region is a granite rock formation called Spitzkoppe and the Brandberg which is Namibia's highest mountain. This area is well known for its rock paintings such as the "White Lady". Hiking is a popular activity as well as 4x4 game drives, rock-climbing and horseback riding.
To the Atlantic Coast lies the historic city of Swakopmund, a popular tourist destination with numerous activities such as sandboarding, boat trips, living desert tours and quad biking to name but a few. Travelling through an area of massive sand dunes approximately 30km south of Swakopmund, you will find Walvis Bay, a busy harbor town situated next to a lagoon. Here one can marvel at the numerous flamingoes, or for the more adventurous there is also the option of climbing Dune 7, one of the highest sand dunes in the Erongo region and on the coast of Namibia.

The Erongo region in Namibia has a wide selection of accommodation, ranging from luxury Namibia safari lodges to coastal hotels in Swakopmund. See below for some suggestions for your upcoming Namibia holiday in the Erongo region.