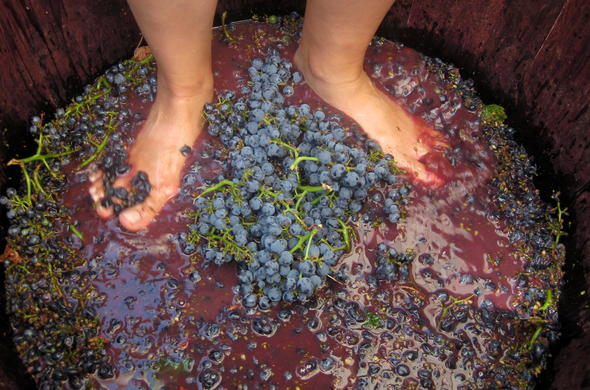 Haven't you always wanted to get stuck into a bit of barefoot grape stomping? Carrie Hampton took the chance with the Barefoot Winery's annual harvest and stomped her way through a barrel of Merlot, while getting sloshed on last year's vintage.
The feeling of squashing little red juicy Merlot grapes between ones ever so ticklish toes, is quite delicious. There is something rather seductive about it. This was being demonstrated by couples clamped together in a stabilising embrace, as they
stomped this year's slippery grape harvest
in plant-pot sized wooden barrels.This foot orgy is how the Barefoot Winery in the Cape Winelands, starts their annual wine making process, and I have never enjoyed a day so much. There weren't enough
tight little Pinot Noir bunches
to be had, so we got to work on some Merlot as well and in it all went under my steadily pounding feet.The 2002 blend that began its life under my size fives, will be a fortified
wine similar in style to a Port
, called 'Myriad', in honour of the many feet that went into making it.
Barefoot Wine Started In A Garage
The Barefoot Winery's 1999 Shiraz received
four out of five stars
in the indispensable John Platter's wine guide and their 2000 Pinot Noir is rated as the most serious and finest of their Pinot's, and should grow into four star quality with time.This is all down to winemaker Catherine Marshall, who instigated the
first vintage from a garage
in Muizenberg in 1996. This event occurred to prove that wine could be made anywhere, and so the Village Shiraz was born.The Barefoot Winery, who have
no permanent vineyards
or cellar, which does not seem to have been a hindrance to them, currently produce 20 tons a year, which equates to 1400 cases, all red.I am sure I did not tread enough grapes to produce that much wine, but whilst stomping I was being
invigorated by last year's vintage
, so it is possible I might have crushed more than I realised.
Frivolity & Joy
The 2002 annual harvest ritual where music, food and wine flow and grapes are trod,
exceeded all previous years
in both grace and decadence. The grace came in the form of renowned artist Hannetjie De Clercq's exquisite home in Reibeek-Kasteel, and the decadence came in the form of the people tempted into frivolity by the sheer joy of the day.In the
garden grapes were squeezed
of their luscious juices, while in shady courtyards and garden gazebos, wine was sipped and food nibbled. Everybody indulged in all activities at one time or another and many managed all activities at the same time.A good few ended up in the fountain having
experienced too much of everything
. This joyful occasion may well be open to the public next year so look out for news of that next January.
Exquisite Lables Are Works Of Art
Hannetjie De Clercq's part in all this is far more than just providing the venue for
this year's juice extracting process
. She is the artist that creates the 'vintage happenings' labels, giving the dark bottles their most distinctive and desirable appearance.The winemakers are happy to be 'slaves' to the artist's inspiration, since she
creates such ethereal images
that you would easily buy the wine for the label alone. Hannetjie uses soft feminine imagery of many colours for the Pinot Noir and a more angular masculine look for the Shiraz.The fortified wine label shines an ecclesiastic gold encompassing a reverent female face. As each vintage is limited, the
bottles adorned with Hannetjie's work
could be worth far more than they currently sell for in a few years time.Barefoot wines are
on sale in Enoteca
, selected Spars and Liquor City's, and my personal underfoot 'Myriad' blend will be released in a dainty 375ml bottle early in 2003.By Carrie Hampton. Carrie Hampton can be contacted on email: carrieh@iafrica.com Copyright © 2002 Carrie Hampton. All rights reserved. Reproduction in whole or in part without the permission of the author is prohibited.
Where else can I go wine stomping ?
The
Grande Provence Wine Estate
also has an annual Harvest Wine Festival (usually in March), offering guests and visitors the chance to take part in barefoot wine stomping.