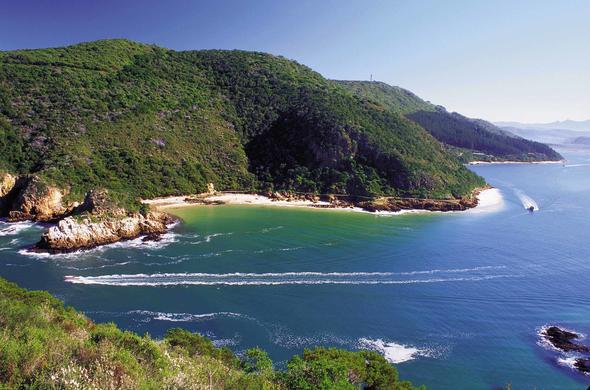 Plettenberg Bay is a holidaymaker's paradise and the eco-tourist's dream. Its eternal weather ensures days of warm comfort and lazy, pleasurable evenings seldom found anywhere else.
It is home to vast expanses of unspoilt Cape flora, delicate eco-systems in wetlands and lagoons, forests of unsurpassed beauty, pristine sand dunes and sun bleached beaches as far as the eye can see.For the nature lover, there's an unparalleled wealth of fauna and flora. The rugged Outeniqua and Tsitsikamma Mountains form the backdrop for an area encompassing no fewer than fifteen private and public nature reserves. The Tsitsikamma National Park is internationally recognised for its forests that harbour and conserve the giant Outeniqua yellowwood - one of the few true monarchs of the world's forests.
Tsitsikamma National Park is also Africa's oldest and larger marine reserve, playing a viral role in the preservation and conservation of marine fauna and flora. Hikers from all over the world visit the area which is known for its rugged, unspoiled coastline - a photographer's dream. The region has many scenic hiking trails, of which it is justifiably proud, though its greatest asset remains the world-renowned Otter Trail.You can visit Harry, Sally and Duma, at the Knysna Elephant Park, just a few kilometres out of Plett, where you can learn more about these fascinating animals and enjoy the walking trails and picnic in these beautiful surroundings. 16km East of Plettenberg Bay is Monkeyland, the world's first sanctuary for multi-specie free-roaming monkeys. At Monkeyland, previous caged monkeys from several continents are rehabilitated and released in a 12-hectare forest and visitors are able to view them by being taken on monkey safaris by game rangers.Scenic flights are offered by African Ramble - who specialise in low-flying scenic flips along the magnificent coastline, including a spectacular view of the majestic Tsitsikamma Mountains and the Knysna Heads and inland over huge tracks of indigenous forest.
Open Cockpit Gliders offer free flying over the stunningly beautiful Plettenberg Bay Lagoon. A flying experience not found anywhere else in the world, flights are tailored to suit the individual - from the 'Gentleman's Aviation Carriage' to a 'Reverse Bungy' or 'The Cobra'. Visit the Plett Mountain Trout Farm - via a leisurely drive up the historic Prince Alfred's Pass. Rods are available for hire.Stormsriver Adventures offers blackwater tubing, abseiling, woodcutter's journeys, eco-cruises, mountain biking and snorkelling. And for a real adrenaline rush, the highest bungi jump in the world is offered form the Bloukrans Bridge - a jump of 216 metres!
Nature's Valley boasts beautiful old yellowwood trees, wild bananas, ferns, etc. There are lovely walks in the nearby area, from the historic Forest Hall down to the beach, along the rocks to the Salt River Mouth and over to Blue Rocks, ending on the long golden Natures Valley Beach.Robberg Natures Reserve is an untouched peninsula that juts out into the sea. It boasts three hikes, varying in distance and has an abundance of bird and wildlife. Stanley Island, the only privately owned island on the South African coast. It is also a private nature reserve with a wealth of animal and birdlife, deserted sandy beachesand indigenous forest. Many birds, Springbok, Grysbok, Klipspringer and Warthog can be seen at close quarters.Mountain biking and horse riding are popular pastimes and there are numerous forest trails to explore. Mountain bikes are available for hire from Outeniqua Biking Trail in Harkerville through indigenous forest, plantations and fynbos, with stunning sea views. Organised horse trails are also available.
For anglers, there are great opportunities for both saltwater and freshwater fishing and fishing excursions and deep sea fishing trips are available. Many local companies offer wonderful boating trips to view the dolphins, whales, seals, sharks and birds with highly qualified personnel to guide you through the fascinating marine world and teach you more about our history and coastal geology.Scuba diving and snorkelling along the Garden Route are excellent. Sailing is available through local boat clubs and canoes are available for rental. Particularly popular are canoeing and bird-watching trips along the Bitou River. Golfing is available at the 18-hole course at the Plettenberg Bay Country Club, which is also a Nature Reserve, boasting a wide variety of birds and small wildlife. Or visit the 9-hole Gary Player-designed and course at Goose Valley. Plettenberg Bay also boasts a very popular Art and Craft Route. There are a great many local artists and craftists in the area, and they are well worth visiting. Pottery, batiks, paintings, weavings and much is available.Knysna is a unique, quaint town 25 km (15.5 miles) from Plettenberg Bay, set on an extensive lagoon that opens to the sea through soaring sandstone cliffs known as 'The Heads'. Unique marine and bird species abound, including the Knysna Loerie and the rare Knysna seahorse. Galleries, flea markets and festivals keep the visitor entertained in Knysna. It is also the home to the famous Knysna oysters, served at many of the local restaurants.
Knysna's premier eco-experience is the John Benn Featherbed excursion. Cruises leave throughout the day, taking you across the lagoon to the heads. Here an open-sided safari tractor will take you for a guided trip through the John Benn Nature Reserve to the top of the heads, followed by a guided walk back down ending at a wonderful restaurant set amongst the trees, where a hearty lunch or dinner can be enjoyed before heading back to the mainland.The Outeniqua Choo Tjoe, one of the last remaining steam trains, will take you on a memorable and scenic trip from Knysna to George. And finally, no trip to Plettenberg Bay is complete without a hunt for the elusive Pansy Shell, the emblem of Plettenberg Bay!Mossel Bay, Cango Caves and Ostrich photography: Copyright Chris Daly Photography