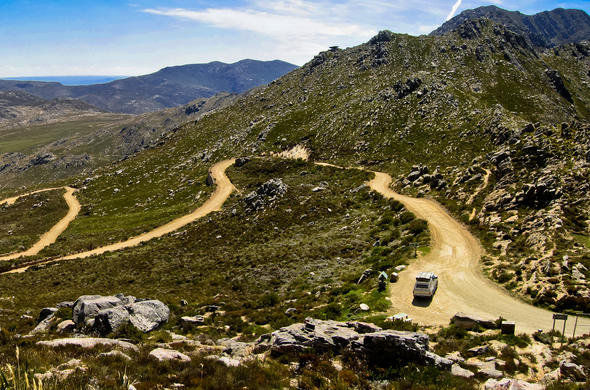 The Road to Heaven or Hell? In the heart of the Swartberg Mountains of the Western Cape is a lonely winding road leading to Hell. Carrie Hampton descended to find whether it was really heaven or hell!
The road to Hell may be rocky, but its twists and turns, looping creamy white like a fancy ribbon, led me to something more akin to my idea of Heaven. I had waited a long time to
descend into Die Hel
and my procrastination only served to augment my ghostly expectations of this once inaccessible valley.Now many visitors satiate their curiosity and take the
plunge into the beckoning abyss
between the towering Swartberg Mountains of South Africa's Western Cape. Flame-coloured rocks guide you into the narrow valley, while distant quartzite crags glint icily over the scene.This kloof (valley), holds so many secrets that visitors now come in search of its lost existence. Bushmen paintings suggest that these hills and valleys
once teamed with game animals
, yet few were left when the white man ventured into this remote place in 1830.
Escape from Beautocratic Brits
The
British forcibly occupied the Cape
in 1806 and within twenty years the Afrikaner community loaded up their wagons and left British rules and regulations behind. They often searched for the most inaccessible locations and a most unlikely legend explains how some
Afrikaner Boers (farmers) found Gamkaskloof valley
, later known as Die Hel (The Hell).A young white boy Danie Hartman, was supposedly
kidnapped by the Khoikhoi bushmen
and hidden away in a remote valley. Upon his escape he told stories about this remarkable secret place, so inaccessible that even a horse could not reach it. The sound of such peace and isolation was
so appealing that families moved into
this remote area and cultivated the land.A more likely explanation is that Boer cattle strayed off and were tracked into a narrow river valley just 20 km long and 600 m wide. They realised that by moving here they could easily
shut out the world
and the English, and this they did for more than one hundred years.
Full of Refined Folk
Petrus Swanepoel was the first to settle in 1830 and six more families followed, until at its height there were 120 residents. A teacher who came to the valley for a couple of years described the people as 'refined folk' with a
good standard of living
.Never shy of hard work, this
little community became self sufficient
with wheat and rye, nuts, peas, beans and vegetables. Their cattle and goats provided meat, milk and butter. Oranges, figs, apricots and grapes grew readily and wild honey was collected and made into beer and honeybush leaves made a fragrant tea. Life was sweet.
Income Tax In Hell
For more than 130 years the community had
little contact with the outside world
, except for trading excess produce with merchants in Prince Albert which involved a lengthy donkey trek.Lenie Marais became doctor and midwife using herbal remedies to cure most ills but in 1946 a man with lockjaw (tetanus) needed more help than she could offer. A
Doctor was summoned from town
but the treacherously steep footpath known as 'die leer' - 'the ladder' put him off coming again. The stock inspector was quite used to this path as he was obliged to visit every two months.However, in town he was heard to remark that 'getting there was hell' and this
spawned the nick-name 'Die Hel'
which the locals objected to most vehemently. When Mr Mostert, received a tax return addressed to him in 'The Hell', he promptly sent it back, angrily scrawling on the front, 'Do people in Hell pay income tax?'Before a road was constructed into the valley there was only a wide track on the valley floor linking the farms. A philanthropic or misguided donor gave a Gamkaskloof farmer a motor vehicle but as there was
no road into Die Hel
, it had to be carried down bit by bit. Its remains sit by the road as a reminder of older and stranger times.
The Valley Emptied Out
It was not until 1962 that a road was forged into the valley. Sudden access to this once hidden enclave
brought destruction to this community
. Curious children left and did not return, and their parents gradually followed. The valley emptied out and in 1991 the last active farmer sold his land to Cape Nature Conservation.The old cottages remain and some have been renovated for visitors. There is
still no electricity or heating
and adornment is little more than it ever was - a crochet bedspread. Guests are offered no more or less than those who used to live here, and you soon realise that this is all you need.It is ironic that the bumpy road used by the community to leave this place, is now being worn smooth by townies coming back in
search of the peace and solitude
cherished by its earlier residents. This road now only leads to Heaven, not Hell.The author of this article is Carrie Hampton - she can be contacted on email: carrieh@iafrica.com. Copyright © 2002 Carrie Hampton. All rights reserved. Reproduction in whole or in part without the permission of the author is prohibited.