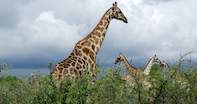 Otjozondjupa is one of the central regions in Namibia with a size of 105,185 square kilometers, with vegetation ranging from open savanna around Otjiwarongwe, to lush vegetation and massive bright red sandstone cliffs. The main attractions in the Otjozondjupa region are the Waterberg Plateau and the Hoba meteorite close to the town of Grootfontein.
With the Waterberg Plateau table in Otjozondjupa being so inaccessible for predators and illegal hunters, this natural wildlife sanctuary has been used very successfully in the rehabilitation of several of Namibia's endangered species – to such an extent that there are now even a surplus of species to be relocated from the Waterberg Plateau to other national parks in Namibia.

The Hoba meteorite near Grootfontein, is a National Monument in Namibia and popular among tourists for the simple reason that this is the largest piece of iron ever found near Earth's surface, weighing 66tons. Interestingly enough there is no surrounding crater which one usually finds near meteorites. Activities in the Otjozondjupa region has a strong focus on game viewing on hiking trails or game drives, but guests can also visit a Herero village in this area and the Cheetah Conservation Fund who serves to protect the cheetah in this part of Namibia.
Accommodation in the Otjozondjupa region of Namibia are mostly found around the Waterberg Plateau National Park in private game lodges and a National Park resort. See below for more information on Namibia safari accommodation in the Otjozondjupa region.