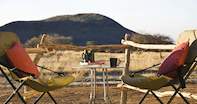 Otjiwarongo is one of the larger towns situated in the northern parts of Namibia and was originally a staging post on the railway from Tsumeb to Swakopmund. It is conveniently situated on the route to the Etosha National Park and most other tourist destinations in the north. It houses the only crocodile farm of Namibia and is close to the well known Waterberg Plateau Park.
Otjiwarongo accommodation is useful as a stop over when going on a Namibia safari to Etosha National Park. It also has services such as shopping, banking and medical facilities available. There is also a train station, bus service and an airstrip.
There are several fuel stations around town (some open 24 hours), and Standard, First National and the Bank of Windhoek are all in the centre. If you need food and supplies, then there are plenty of shops on the main Hage Geingob Street, and St Georges, including a large Sentra. There is also an excellent private hospital, Mediclinic Otjiwarongo, which handles serious cases for much of northern Namibia. See Otjiwarongo accommodation below.