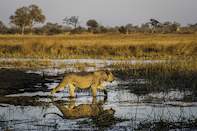 © Dana Allen
The Linyanti Reserve is located on the southern banks of the Linyanti River in Botswana. The Linyanti reserve area consists of 111 288 hectares. Open grasslands and forests filled with Jackalberry and Sausage trees lies next to marshes which flows into lagoons.
The wildlife is spread throughout the Linyanti Reserve in the dry winter months. Elephants congress at the waterholes and Zebras migrate through Linyanti on their way to the Savuti. In the wetland areas roan antelopes, red lechwe and aquatic sitatunga antelope usually gathers.
Predators also roam the reserve such as hyena, cheetah, wild dog and lion. Serval and bat-eared foxes can also be seen.
Accommodation in Linyanti Reserve is in the form of luxury tented camps in the park. Activities include day and night game drives, guided walks and bird hikes. Some camps offer boat cruises and fishing.
See below for Linyanti Reserve safaris offered in Botswana