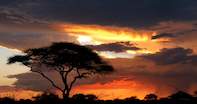 Khomas is the smallest region on the central highland plateau of Namibia, but even so, it is also the most densely populated with the capital of Windhoek being in the heart of the region.
The Khomas region is the gateway to all the splendour of Namibia with the international airport situated in Windhoek. Windhoek itself is a bustling city being the political, economic and cultural centre of Namibia. Here you might find the Sidadi Damara Cultural Group performing an ancient dance in the streets, excellent bars and restaurants on every corner and even old military forts dating from the 1800's.
Nearby Arnhem Caves in Khomas, just over 4800m in length, is the longest cave in Namibia, well known for the different species of bats that reside in the caves. At the 6000 hectare GocheGanas, visitors can enjoy a Namibia safari on game drives, bush walks or even by mountain biking. Partaking in their stargazing experience would leave you breathless at the immense beauty of Namibia's night sky.
In the Khomas region of central Namibia, you have a choice of staying in luxury hotels in the centre of Windhoek or moving out to the countryside for a luxury lodge or farm stay. See below for Khomas accommodation in Namibia.