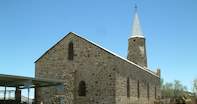 Keetmanshoop is situated in the Karas region of Namibia, and is the perfect overnight destination for an African safari in Namibia. This charming little overnight town in Namibia can be accessed by road.
At Keetmanshoop the stunning Gothic German colonial architecture can be witnessed in all its glory while visiting this Namibian town. The main architectural highlights of Keetmanshoop is the Kaiserliches Postampt, the town museum that can be seen at the Rhenish Mission Church.
Keetmanshoop accommodation is offered at luxury hotels in Namibia. Activities in Keetmanshoop includes sightseeing, cultural tours, and leisure. See below for Keetmanshoop accommodation in Namibia.
Bird's Mansions Hotel in the Namibian Kalahari is located in the centre of Keetmanshoop, known as the capital town of Karas Region in Southern Namibia. This gracious mansion offers a relaxing...
more