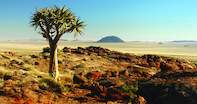 Karas is a region in the south of Nambia, an area of 161,235 km2; covering approximately 20% of the country. The name is derived from the local Nama word meaning Quiver Tree which has become the symbol for this mostly desolate part of Namibia, being the least populated region in the country.
Although mostly farmland, the Karas region includes the Fish River Canyon, the Kalahari Desert and the small coastal town of Luderitz. As the worlds' second largest Canyon, the Fish River Canyon with its strenuous but rewarding Fish River Hiking Trail is a firm favourite among hikers all over the world, not to mention the scenic vistas making for postcard perfect pictures as well as the Ai-Ais hotsprings. It is no wonder that the Karas region has become such a popular destination for visitors to Namibia.
On the coast to the west lies Luderitz, a charming fishing village and harbour town. Nearby in the Sperrgebiet, is Kolmanskop, a ghost town which stands as an eerie reminder of the diamond rush in the Karas region of Namibia. For a safari experience and guided game drives in Karas, head approximately 50km east from the capital city of the region, Keetmanshoop, and you will find the Kalahari Desert crossing over into South Africa and Botswana to form the Kgalagadi Transfrontier National Park with its herds of springbok, gemsbok and even big predators such as lion, cheetah and leopard.
Accommodation in Karas in the southernmost part of Namibia, range from camping in the Fish River Canyon as the most popular, to hotels and guesthouses in Luderitz, as well as game lodges and National Park resorts in the Kalahari Desert. Below is a selection of Namibia accommodation in Karas.