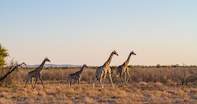 Epacha Private Game Reserve is a 21,000 hectare reserve situated next to Etosha National Park in the north of Namibia. As one of the biggest private reserves in Namibia, there are numerous wildlife to be seen, from the rarer species like the Black Rhino, to the Blackfaced Impala and the Bat-eared Fox and the more common Gemsbok, Springbok and Giraffe.
Activities while on a Namibia safari in Epacha Private Game Reserve include guided open safari vehicle game drives with professional rangers in the morning, afternoon and evening, as well as tracking animals on foot on a bush walk. Guests can also try their hand at clay-pigeon shooting or indulge in spa treatments. With the reserve being in close proximity of Etosha National Park, guests are offered the opportunity to be taken on guided excursions into Etosha with its 150 mammal species.
Epacha Private Game Reserve accommodation is offered in luxury chalets, luxury tented suites or in a private villa for larger groups. Below are information on the luxury Namibia safari lodge options in Epacha Private Game Reserve.