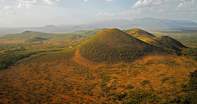 Chyulu Hills is a mountain range in eastern Kenya in the Chyulu Hills National Park. It sits in between some of the youngest volcanic mountains in Kenya and the park was formed in 1983. The area is surfaced with rugged terrain, grassland and unique plants and forests. The rolling plains of Chyulu Hills are full of volcanic soils with forests and thick bushes covering the area.
Chyulu Hills is home to black rhinoceros, elephant, cheetah, gerenuk and the fringe-eared oryx. It also includes lion, giraffe, leopard and wildebeest. There are varied bird species with some endemic races to view. May are the precipitation months in which the long rainfall arrives, and from November to mid-December lighter showers are expected.
Accommodation in Chyulu Hills is offered at safari lodges. Chyulu Hills safari lodges in Kenya offer a range of adventure activities such as game drives twice a day, guided bush walks and horseback safaris for the experienced and novice. You can also take part in a mountain biking venture in the bush.For the cultural enthusiasts Maasai village tours can be arranged.
See below for Chyulu Hills safaris offered in Kenya.