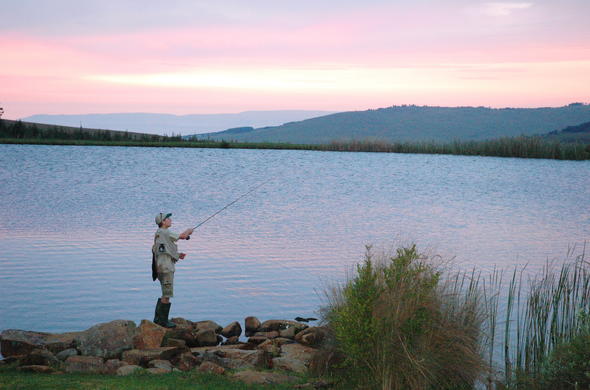 Walkersons Hotel and Spa is the ideal for enjoying some fly fishing or hosting a romantic wedding or relaxing country getaway in Dullstroom.
Walkersons Hotel and Spa offers guests a range of activities to participate in. The beautiful area is ideal for fly fishing. The area boasts 4km (2.48 miles) of perennial river that flows through the valley. There are also 14 lakes and dams stocked with rainbow trout, ideal for fly fishing.
Unwind during your getaway at Walkersons Hotel and Spa. The spa features 3 treatment rooms, a gym and a steam room. Indulge in a massage or a pampering beauty treatment.
The beautiful surrounding area is ideal for discovering on panoramic hikes. Alternatively, guests can explore the area on horse back or go cross country quad-biking. Picnics besides a beautiful winding river or waterfall, are a romantic way to spend an afternoon.
Walkersons Hotel & Spa also features 2 conference venues which can accommodate up to 80 delegates. It is also the ideal venue for a romantic wedding in Dullstroom. Walkerson's features a function room and elegant wedding chapel which can accommodate 100 guests. Other arrangements can be made for larger weddings.