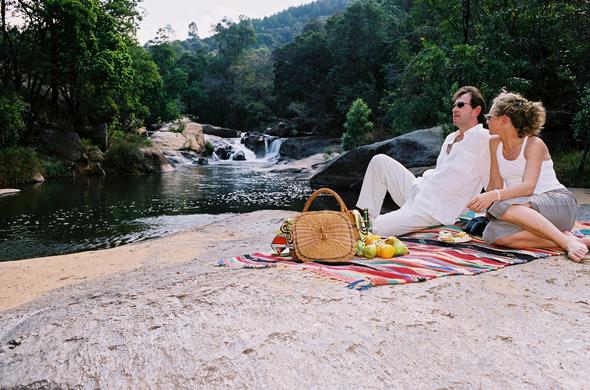 Superb food is prepared in an exotic candle lit restaurant by renowned chefs. Prolific birdlife, walks, horseriding, hot air balloon flights, river rafting and picnics are available.
Activities at Timamoon Lodges include
Self guided walks along the Sabie River bordering the estate or in the nearby forest
Bird watching: Birds such as the Narina Trogon, Purple Crested Loerie, Knysna Loerie, Woodlands Kingfisher and over a hundred other birds have been spotted and recorded by our guests
Horse riding in the forest for 1 hour (Highly Recommended)
Close to the Kruger Park, God's Window, Pilgrims Rest and the Blyde River Canyon
Kruger Safaris, Sabi Sand Safaris, Panorama Tour
Endangered Wildlife Tour
Transfer to Moholoholo Wildlife Rehabilitation Centre - touch a big Cat or have a vulture on your head. Then to Kapama Game Reserve for a picnic lunch and tour of the breeding and research station
Hot Air Balloon Flights
Balloon flights begin at sunrise. They offer tea, coffee and biscuits before the flight, and South African sparkling wine while airborne. The most scenic flight imaginable duration is 1.5 hours.
Spa & Wellness
A variety of spa treatments can be arranged in the privacy of your suite. Private Yoga sessions are also available on request.
Golf
Kruger Park Lodge - 15 minute drive from Timamoon
Sabie River Bungalows - 10 minute drive from Timamoon
Sabie Country Club - 20 minute drive from Timamoon
Micro-light Flip (Pilot and one passenger at a time)
A 30 minute flight takes you from the airport in Hazyview down the Sabie River Valley and along the Noord-Sand river to Da Gama Dam. A 1-hour flight takes you over Graskop to God's Window and back via some of the most spectacular scenery and waterfalls in the country.
River Rafting
River rafting daily subject to availability. Start 09:00 or 10:00, depending on daily arrangements. Start off with briefing, then onto the river. Snacks and drinks are served en route. Finish at around 12:30, transfer back to launch site where guests have parked their cars.
Quad Bike Trails
Sabie River Valley Trail - 1 hour or 2 hours
4x4 Trails
Half day guided trail (3 - 4 hours)
Full day trail (5-7 hours)
Abseiling
Hazyview - Half day
Sabie - Waterfall abseil