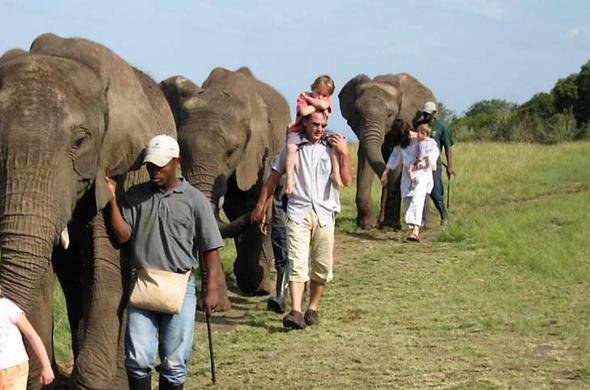 Guests on a Garden Route holiday in South Africa can visit Monkeyland, bungy jump from the highest site in the world or explore Storms River Gorge in Tsitsikamma.
On a Garden Route holiday in South Africa guests can set off on exciting outings with a picnic basket. Alternately there is the lodge pool, sauna and magical scenery adorned by prolific bird life.
From Hog Hollow there is a beautiful 1 hour walk through the river gorge to Monkeyland, a primate sanctuary. This is one of many interesting trails and rambles in the area. For seaside activities on a Garden Route holiday there are 5 beautiful beaches and Golf Resorts in and around Plettenberg Bay.
The Garden Route is famous for its beauty and interesting towns and villages with many excellent restaurants, bistros and speciality foods along the way. The artistic community produce a variety of crafts. This coastline is also superb for Dolphin and Whale viewing boat trips.
Day trips in this part of South Africa are quite an adventure due to the incredible variety of things to see and do, there is something for everyone from historical sites to abseiling, steam train trips to salt water fly fishing and scuba diving. Visitors can also enjoy cruising and boating in several locations.
Activities in the vicinity:
Qolweni Theatre Group - Xhosa theatre / dance group
Blue Lounge River Cruises
Keurbooms River Ferries
Cycling trails through Harkerville Forests
Motorised glider flights around the bay
Keurbooms River boating with a Hog Hollow picnic basket
African Ramble - aerial flights
Eco boat-based Whale and Dolphin tours of the bay
Monkeyland Primate Sanctuary
Elephant Park
Snake Sanctuary
Bungi Jumping at Bloukrans Bridge - highest in the world!
Horse riding through the valleys and mountains
Snorkelling, scuba diving, canoeing and kayaking
Tandem sky-diving
Massage Treatments and Therapies
Fishing and salt water fly fishing
Knysna attractions:
Noetzie and The Castles
The Heads - various trips out to the heads
The Lagoon and Waterfront Quays
Outeniqua Choo Tjoe steam train
Storms River attractions:
Tree Top Canopy Tour
Woodcutters Trail, Heritage sites
Abseiling
Hiking / walks through Tsitsikamma Forest
Snorkelling
Marine tours