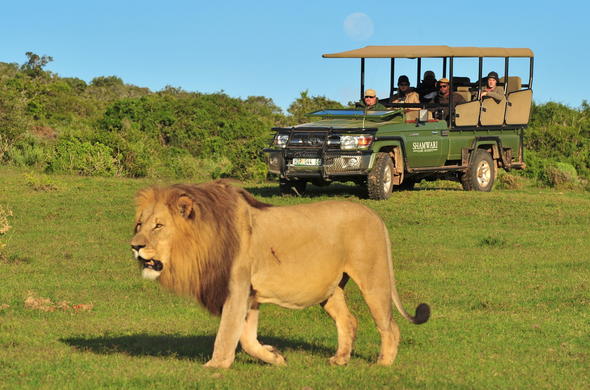 When you visit Shamwari Private Game Reserve, you are in for the safari of a lifetime. Exciting morning and afternoon game drives offer the opportunity of seeing the Big 5 wildlife.
A Day on Safari at Shamwari
Something you'll look back on in years to come, long after the video has been lost and the photos have faded. Shamwari Private Game Reserve wants you to experience, learn and enjoy the very best that African wildlife viewing can offer. To achieve this goal, the staff at Shamwari Private Game Reserve have brought together the best that the area has to offer.
There is great malaria-free safari game viewing, of course, but Shamwari Private Game Reserve also provides modern vehicles converted into open game viewing vehicles. Each vehicle has a trained ranger who will increase your enjoyment with his extensive knowledge of both the flora and fauna.
Shamwari Private Game Reserve rangers are in 2-way communication with each other at all times, so on any day they know where the game is, and how to find the elusive animals such as the rare Black Rhino. Game viewing is carried out in the morning and evening, where you are driven in your open vehicle over the rolling hills and valleys.
If you have a particular species you would like to see, please mention it to your ranger; he will be happy to merge your plans into the group. In the early morning (if you are keen) you will leave before dawn, spending up to 3-4 hours spotting before returning to your lodge for a hearty breakfast. Blankets are supplied for those cold mornings in the bush.
The heat of the day at Shamwari Private Game Reserve is usually spent in the shade, swimming, reading and, of course, eating a large lunch. Between 16:00 - 17:00, you assemble again for the evening drive. As the animals emerge from their midday cover, you may see Elephant strolling, Rhino drinking at a waterhole, or perhaps the shy Bushbuck motionless in the dense bushveld.
At dusk, the game drive stops at some panoramic spot for a sundowner and snacks. Then, as the light fades, your Shamwari Private Game Reserve ranger will plug in a powerful hand-held light. With its help, you can sweep the veld, seeing first the eyes and then the forms of a variety of nocturnal animals.
By 20:00, you are back at your Shamwari safari lodge where a drink in the bar with your ranger, amid cheerful recollections of the day's discoveries is followed either by another great meal expertly prepared by your chefs, or a braai (barbecue) next to a roaring fire. Finally, a hot shower and a well-earned sleep. Before repeating it again the next day.
Born Free Big Cat Sanctuaries
The Born Free Foundation is at the forefront of drawing the public's attention to the plight of wild animals confined in impoverished captive environments and promoting through education and public awareness, a humane agenda. It is the mission of both The Born Free Foundation and Shamwari Private Game Reserve to promote the conservation of species and the protection of habitat while maintaining a humane and compassionate approach to the welfare of animals.
In partnership with actress/conservationist Virginia McKenna's Born Free Foundation, Shamwari Private Game Reserve designed the Born Free Foundation Animal Rescue and Education Centre to incorporate a museum and educational facility whose goal is to create an awareness of the horrific way in which wildlife is exploited in captivity around the world. Guests at Shamwari are able to visit the 2 Big Cat Sanctuaries.
Over the years the Born Free Foundation has been able to rescue several big cats from situations where they are in serious danger and provide them with excellent life time care. Guests at Shamwari are able to see some of these rescued animals at the Born Free Foundation Animal Rescue and Education Centre.
Activities at Shamwari Private Game Reserve
Morning and evening game drives
Nature Walks with armed rangers
Outdoor dinners are a popular choice
Swimming, gym facilities
Relaxation retreats are also available
The Born Free Foundation and Wilderness Area are a must see
Historic stories and legends of the area are often told by the rangers
On site guest boutiques with curios