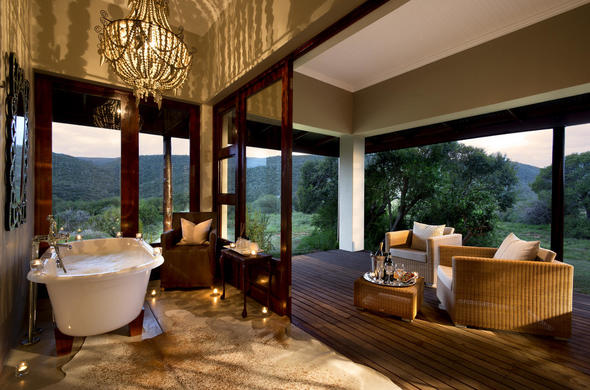 Kwandwe Game Reserve comprises four exclusive lodges overlooking the Great Fish River.
Accommodation at Kwandwe Private Game Reserve consists of four exclusive safari lodges. World-renowned for its exceptional accommodation, the reserve was rated in both the USA and UK Condé Nast Hot Lists.
Great Fish River Lodge
Great Fish River Lodge accommodates a maximum of 18 guests in 9 stylishly furnished suites. The thatched stone and class suites have en-suite bathrooms with indoor and outdoor shower, air-conditioning and private plunge pools. The furniture and decoration combine colonial settler history with local African culture. Each room features exclusive floor-to-ceiling doors with uninterrupted vistas of the wilderness.
The lodge's guest areas comprise a large fireplace with a massive stone chimney and a soaring thatched roof. Dining areas and glass-fronted sitting areas boast expansive viewing decks with breathtaking views of the Great Fish River. Delicious meals are either served in the candlelit dining room, in the open-air boma or on the private decks.
Ecca Lodge
Ecca Lodge accommodates a maximum of 12 guests in 6 intimate suites. Each suite has air-conditioning as well as an en-suite bathroom with spacious, plate glass-enclosed shower, bath and twin hand-basins. The sitting area can comfortably convert into accommodation for children under 11 years.
Guest areas overlook rolling spekboom valleys and comprise a dining room, bar area, deep verandah with expansive viewing decks and spacious sitting room with fireplace. Hours of entertainment for children of all ages are provided in an interpretive centre.
Uplands Homestead
Uplands Homestead comprises 3 spacious bedrooms accommodating a maximum of 6 guests in this intimate lodge. Each room has an en-suite bathroom, air-conditioning and private terrace. A private butler, ranger and chef make sure you can enjoy the ultimate in tranquility and relaxation. This lodge is ideal for small groups or families. The dining and sitting areas comprise high ceilings, beautiful fireplaces and wooden floors. A deep and shady verandah leads to the swimming pool and gazebo. The interior design of Uplands Homestead is based on 1820s Settler style.
Children of all ages are welcome. Uplands can accommodate a maximum of six adults, one child and one infant.
Melton Manor
Melton Manor at Kwande is a sole-use contemporary farmhouse is built in a U-shape. It offers a central courtyard with 4 spacious guest suites. The verandas are overlooking the surrounding hills. Luxury Melton Manor is a delightful retreat, a perfect family accommodation, with warm and inviting interiors, a wonderful garden and pool area.