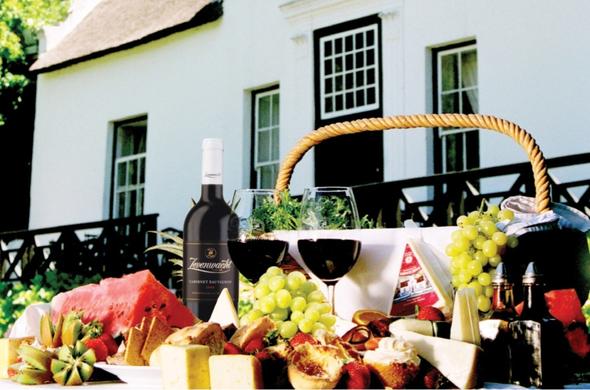 The wines of Zevenwacht Estate are distinguished by their finely crafted elegance and classic style. Experience wine tastings and wine cellar and vineyard tours.
Vineyard Tours
Take a leisurely stroll through the vineyards and enjoy their unique beauty, changing yet inviting at all times of the year. Feast you senses on the breathtaking panorama of Table Bay and False Bay that unfurls before you.
Cellar Tours
The wines of Zevenwacht Estate are distinguished by their finely crafted elegance and classic style. The resident winemaker honors the centuries-old wine-making traditions, yet is boldly innovative, welcoming the contribution that modern technology makes to the vinification of premier wines. Experience at first hand the artistry and technical skill that transform grapes into fine wine. Visitors are welcome to tour the cellar by appointment.
Wine Tasting
Savour the pleasure of sampling wines on their home ground, within sight of the vines on which they grew and of the cellar in which they were produced and matured. Open seven days a week.
Bakwena Spa
This original African Day Spa incorporates traditional African nurturing remedies into its spa packages. Guests are free to relax in this natural haven by enjoying a selection of soothing treatments.
Picnics
A delicious range of picnic baskets are served in a beautiful setting on tree-shaded lawns sloping down to the lake. Enjoy a tasteful selection of bread and biscuits, cold meats, cheeses, and salads or pre-book a barbecue basket and cook your own meal over vine wood fires. Let this be an opportunity to enjoy Zevenwachts exceptional selection of wines
Childrens Play Park
A fun-filled play park provides recreation for children and keeps them happily and safely entertained.
The Manor House Restaurant
The tastefully decorated Zevenwacht Restaurant, located within a turn of the 19th Century Cape Dutch Manor House, portrays both finesse and charm. Open for breakfast, lunch and dinner 7 days a week, the restaurant offers contemporary continental cuisine prepared to perfection. Magnificent views of the tranquil lake and park-like gardens are the perfect accompaniment to a memorable dining experience.
Banqueting - Zewenwacht Al Fresco
The thatched Alfresco is ideal for any occasion. For impressive functions, unforgettable weddings and product launches, the Alfresco provides a well-equipped, versatile venue suitable for up to 220 guests.
The Lapa
Set in a wooded glade above the lake, this outdoor thatched venue provides a charming, yet informal venue for up to 80 guests.
Conferencing at Zevenwacht Auditorium
Seating 64 delegates, the Auditorium is lavishly equipped with the most advanced technological facilities. With the additional advantages of smaller breakaway and meeting rooms, full administrative support, and a team of professionally trained staff running it, the Conference Centre is well prepared to meet the most challenging of corporate requirements. Read more about Conference venues at Zevenwacht
The Cheesery
Cheese & Wine Pairings at Zevenwacht are offered with authentic hand-made mozzarella by Puglia cheeses. These cheeses can also be purchased at the Wine Tasting Centre's new Cheese & Chocolate deli.