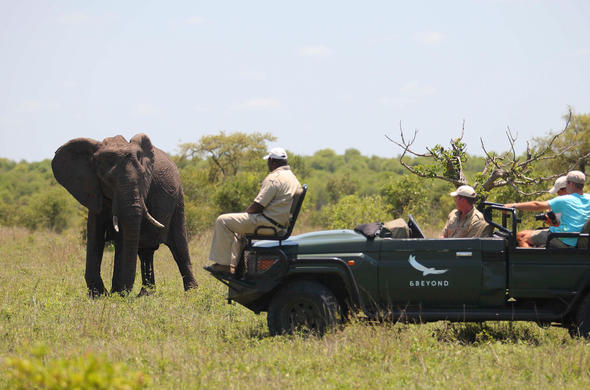 With the activities included for your stay and plenty of optional extras, you can have the ultimate South Africa safari in Phinda Private Game Reserve.
Game Drives
Enjoy exceptional twice-daily Big Five game viewing in specialised safari vehicles with experienced rangers and local Zulu trackers on your South Africa safari Phinda Private Game Reserve. Wildlife includes cheetah, black and white rhino, lion, nyala and much more.
Water Activities
Sodwana Bay is known as one of the top 10 diving spots in the world, and no visit to the bay is complete without diving with the colourful fish and corals of the Indian Ocean. Optional Phinda Adventures, provided at extra cost, include breathtaking coastal flights, beach excursions including snorkeling and scuba diving, deep-sea fishing, and turtle safaris.
Walking Safaris
Experience the African bush up close on a guided walking safari. This tailor made activity allows you to learn more about the smaller wonders such as antlion and dung beetles. Enjoy a mouthwatering brunch before having a short siesta on a hammock shaded by trees.
Sleep Out
The more adventurous can enjoy dinner under a star-studded African sky. After your romantic candle light dinner, head off to bed with nothing more than canvas between you and the African wilderness. Please note that walking safaris are not available to children under the age of 16 years.
Mzinene Riverboat Cruise
Witness a magnificent sunrise or sunset while enjoying a leisurely cruise along the Mzinene River in Phinda's riverboat. Observe some of the 200 or more waterbirds, as well as crocodiles and hippos lazing about during a South Africa safari.
Phinda Adventures
Zulu village tours
Maputaland beach adventures
Night turtle drives (seasonal)
Scuba safaris
Ocean safari
Black rhino tracking on foot