Places in Central Namibia
Central Namibia comprises of Windhoek, which is the capital of Namibia and extends to include Swakopmund and Walvis Bay. See below for recommended Central Namibia accommodation in Windhoek and surrounding areas.

Namibia
Central Namibia : Windhoek | Swakopmund | Walvis Bay | Hardap | Khomas | Erongo | Namib Naukluft Park

This Namibia hotel has a great deal more to offer guests than its remarkably convenient downtown Windhoek location. The Casino
Beach Lodge is a Hotel in Swakopmund that provides you with self catering and bed and breakfast facilities a stone's throw away from the scenic beachfront
Bitterwasser Lodge is situated between Uhlenhorst and Hoachanas, it was founded by the Namibian farmer and glider pilot, Peter Kayssler.
Camelthorn Kalahari Lodge is situated in a valley of red sand dunes, for a secluded vacation in the open beauty of the Kalahari Desert in Namibia
Eningu Clayhouse is built in a adobe style, the bricks were home-made from clay found on the farm. The clay bricks contrasts magnificently
Erongo Wilderness Lodge in Damaraland, Namibia, is a special wilderness area, encircled by Erongo Mountains, where the desert, mountain
GocheGanas Nature Reserve & Wellness Village is situated in central Namibia, a mere 29km south-east of Windhoek on a Private Nature Reserve
Hansa Hotel, voted the best in Namibia for 2 years, is the perfect base to explore Swakopmund, surrounding desert and Walvis Bay. Not only is Hansa Hotel world renowned for its outstanding cuisine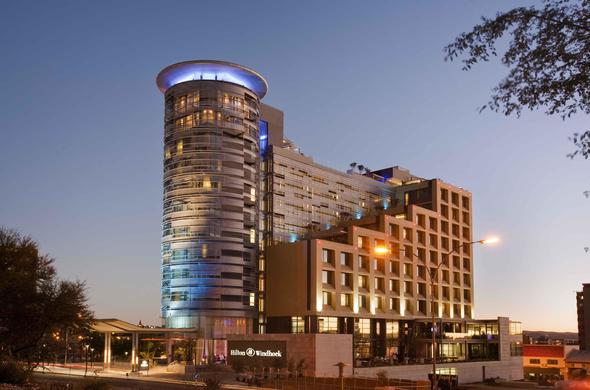 The Hilton Windhoek Hotel in Namibia is a stylish and contemporary hotel that offers comfortable Windhoek accommodation in the heart of the city
Hotel Heinitzburg is one of the few Windhoek Hotels overlooking the Khomas Highlands in Namibia, providing guests wonderful accommodation
Cool off in the refreshing swimming pool sipping a cocktail, relax and enjoy your business or holiday trip in Namibia. Being one of the most well known hotels
Hotel Zum Kaiser is a chic and contemporary, business orientated Swakopmund hotel in Namibia. This Swakopmund hotel in Namibia is well situated right in the heart
Immanuel Wilderness Lodge is a Lodge near Windhoek, a place to escape the hustle and bustle of Windhoek and enjoy the peace and
This Windhoek B&B is the perfect accommodation for those in need of relaxation. Jordani Bed & Breakfast is perfectly suited for visitors, business travellers and families looking for accommodation in Namibia
Kulala Desert Lodge rests on a desert plain and offers heart-stopping scenery of the famous gigantic red dunes of Sossusvlei This Namibia Desert lodge
Little Kulala Lodge near Sossusvlei in the Namib Naukluft Park, Namibia, offers magnificent dune scenery to the west and rugged Namib mountains to the north and east. This Namibia Desert lodge is
This award-winning Namibia safari lodge near Windhoek is an eco-friendly destination with an interactive range of wildlife encounters and village tours
The upmarket Namib Naukluft Lodge in Namibia is located on a 13 000 hectare farm in the heart of the Namib Desert. Each of Namibia Lodge
Olive Grove Guesthouse is a quiet, luxurious small Windhoek hotel near the city centre for guests on a holiday in Namibia.
Of late, this beachfront Hotel in Namibia is well known for hosting one of the worlds most famous Hollywood couples, Angelina Jolie and Brad Pitt
Centrally located and offering warm and welcoming hospitality, this hotel in Windhoek is the perfect business stopover or base for a holiday in Namibia
Protea Hotel Long Beach Lodge, a beachfront hotel near Walvis Bay, offers relaxing holiday accommodation on the Atlantic Ocean in Namibia.
Protea Hotel Pelican Bay, a Walvis Bay hotel and conference venue, is overlooking the Walvis Bay lagoon and its pink flamingos. Guests at this
Protea Hotel Thuringerhof in Windhoek is centrally located and walking distance from shops and the centre of the capital city of Namibia. This hotel
The 3 star Protea Hotel Walvis Bay is surrounded by the Atlantic Ocean, the Walvis Bay Lagoon and the worlds oldest desert, the Namib.

Page: 1 of 2