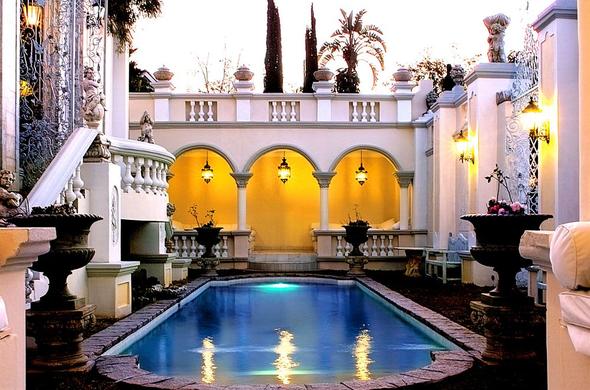 After being settled into your luxurious suite by your butler, enjoy the luxurious amenities and facilities offered at Illyria House.
Relax with a good book in the comfort of your suite or take advantage of the pleasant Pretoria climate with a leisurely stroll through the garden, before enjoying a light salad- or sandwich lunch on the veranda. Spend the afternoon lounging in the Jacuzzi or sauna, then freshen up for our six-course gourmet dinner on the patio.
Overlooking the candle-lit grounds it is a magical finale to a marvellous day. The Aquarius Wellness Spa is an intimate haven where a full-time beautician administers calming beauty and wellness treatments. Guests are invited to make use of the Sauna, Jacuzzi and Exercise Equipment in the secret garden.
Wellness Treatments
Indulge in these relaxing treatments, like a classic and Continental facial treatment, manicures, pedicures, wax treatments, foot treatments, many types of massages, reflexology, full body treatments, swollen legs treatment, stretch marks treatments, tinting and reiki.
Hot air ballooning
An experience for the wild at heart is a scenic sunrise journey in a hot air balloon over the Hartebeespoortdam and Magaliesberg Mountains. Enjoy a Champagne breakfast while taking in the breathtaking view from way up high. Please note that this tour is not included in the all inclusive packages and needs to be settled seperate. 
Cultural tours
The different and unique ways of our people will amaze you during this cultural tour starting with a drive through the Asiatic Bazaar and past the Miriammen Temple. This Hindu gopuram was erected in 1939 with the intention to protect children against illness. Protection against illness takes a completely different form at your next stop.The trusted 'Sangoma', or traditional African healer will ask you to breathe your 'spirit' into a little hide bag filled with 'dolosse' and astound you with her reading and healing of your life with African herbs. The tour ends with a visit to an authentic Ndebele village where you have the option of joining in a traditional Mapoch meal, highlighted with the spontaneous dancing and singing of members of this little tribe. Alternatively you may wish to visit Lesedi, a popular tourist portrayal of multi-cultural African villages.
For the avid golfer
The Pretoria vicinity sports a number of well renowned golf courses. Illyria House recommends the prestigious Pretoria Country Club. Gary Player is in the process of upgrading the wetlands of this course. The club also boasts bowling fields, tennis courts and squash facilities (±8 minutes away). The Peacanwood golf course designed by Jack Nicklaus in the beautiful Hartebeespoordam area is only 40 minutes away. Kindly note that green fees are not included in the fully inclusive package and amount from R200–R1000 depending on the golf course of your choice.
For the eternal gardener and birdwatcher:
Pretoria is home to a number of beautiful parks including the National Botanical Garden, Pretoria Rose Garden as well as the tranquil Austin Roberts Bird Sanctuary, ideal for leisurely strolls.
Hiking trails
Alternatively guests may wish to explore some of the mysteriously picturesque hiking trails in the cliffs and valleys of the Magaliesberg surrounding Pretoria. Amongst others the Eagle Cove and the Mooiplasie hiking trails are suitable for beginners and hiking enthusiasts alike. The trails lead through lush indigenous forests with resting places at romantic natural pools and riverbeds. At the request of our guests, we gladly prepare a picnic basket or send a butler along to prepare an authentic South African barbeque.
For the animal lover
For guests who are not privileged enough to visit a game park, a day visit to the Pilansberg National Park is an option. De Wildt Cheetah and Wildlife Captive Breeding Centre, where the very first King Cheetah was bred in captivity, might be of scientific interest. The Rhino and Lion Nature Reserve, where you may cuddle a Lion cub, is situated in the famous World Heritage Site a mere 40 minutes drive from Pretoria.
The area also sports the magnificent Wonder- and Sterkfontein Caves where Sir Robert Broom first discovered the skull of an apeman (or in this case, apewoman) and dubbed her 'Mrs. Ples' – the oldest fossilized scull ever found. 'Mrs. Ples' found a home in the Transvaal Museum only minutes away from Illyria House. A picnic in the world famous National Zoo might be a rewarding alternative.
Horseback safari at the Rietvlei Wildlife Sanctuary
(20 minutes from Illyria House) might be an equally enjoyable experience. Spend a laid-back Sunday afternoon watching Lippizahners 'dancing' to the beat of classical music while enjoying a picnic, about half an hour drive south of Pretoria.