Vic Falls by Elephant Back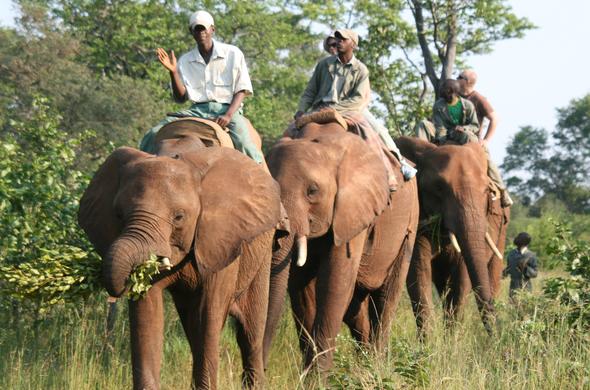 Zimbabwean elephant-back safaris actually take you into the Zambezi National Park where you have the chance to see buffalo, other elephants and possibly even lions.
All of the elephant experiences offer encounters with game, either from the back of these true rulers of the bush or while walking with the animals. It is interesting to see how differently wild animals react to elephants (with you on their back) as opposed to the way they react to humans on foot.
You can even have some fun. Wash an elephant. Elephant rides are available from a variety of operators on both the Zimbabwean and Zambian sides of the river. All experiences begin with an orientation and safety talk as well as an introduction to the elephants you will be riding or walking with.Times and distances covered vary from operator to operator, so it is best to discuss the various options with the operator.
Elephant Interaction
Elephants are remarkable animals with a high level of emotional intelligence. One of the most popular activities at the Falls is the chance to interact with these great mammals. This opportunity is offered by operators on both sides of the river and is a highly-recommended experience.
Due to concerns over the well-being and treatment of the elephants, many tour operators are opting for Elephant Interaction experiences as opposed to traditional Elephant Back Safaris.
Brett Hilton-Barber and Lee R. Berger. Copyright © 2010 Prime Origins.