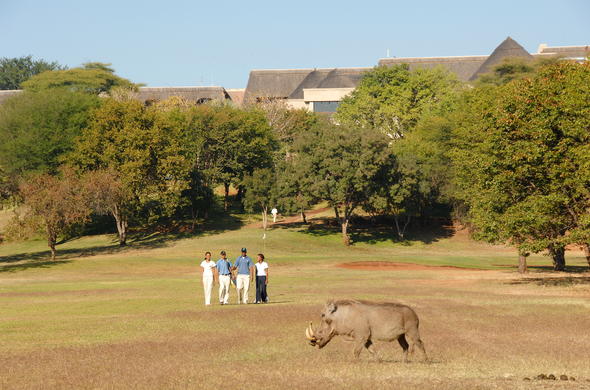 Elephant Hills Country Club is the most dramatic golf course in Africa, with game roaming the fairways and greens.
The Beginning
My golfing career has spanned many years of inactivity. From my first painful experience at the country club of my home town of Cathcart in the Eastern Cape to my last disaster at the Hermanus Golf course in the Western Cape, golf has been a big part of my life, be it reminiscing of feats I did not perform or simply lounging on a couch watching the major events on television.
Elephant Hills
Through all this drama one course has stood out above all the others. The
Elephant Hills Country Club
at Victoria Falls in Zimbabwe is where I have splashed and hacked my way through most of what little playing experience I have.Surrounded by the Zambezi River and the Zambezi National Park, the course is unrivaled for sheer beauty and peace and renowned for the wildlife that roams freely on the fairways.
Ancient giant baobabs guard the greens
and the fairways are lined by indigenous vegetation providing for more than a golf outing, explaining the many people who roam the fairways without a golf club in their hands.On one of my visits I was informed that the seventh hole was closed as a pride of
lions had killed a waterbuck
on the fairway. The parks and wildlife department were on hand to ensure the safety of players. Another time a huge backlog built up at the eighth hole when a leopard made a brief appearance and golf was forgotten for a while as everyone was trying to get a sighting.The early mornings at Elephant Hills are special. With the sun oozing into a dust stained sky and the dew on the green grass of the fairways dancing in the light, stories can be read on the ground. Imprinted in the wet grass are
tracks of the night activities
. I have seen fresh leopard and elephant tracks, have marveled at waterbuck and warthogs silhouetted in the morning light, and heard a lion roar at the morning.At the Elephant Hills course a bad day on the greens, and the embarrassment of seeing caddies hide away as you approach the caddy hut, is lost in the almost surreal beauty of the experience. The mournful caddy wail of
'ahhhh mamba country',
as you slice another shot into the deep bush, does not spark humiliation for at the Elephant Hills the soul is at peace.
By Leigh Kemp