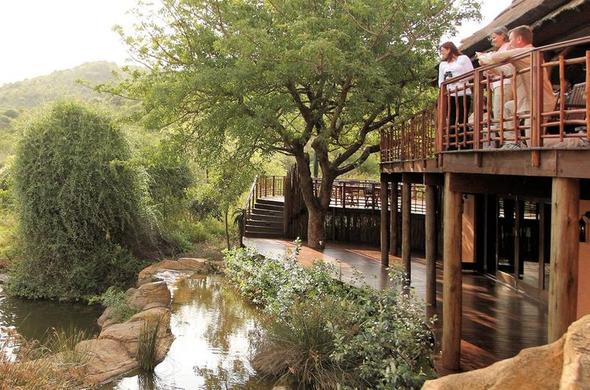 The Zulu nation rose to its most triumphant in the nineteenth century, during the reign of Shaka. The word Zulu refers to sky, lightning or other heavenly elements, and was the name assumed by the majority of northern Nguni people in south-east Africa following Shaka's rise to power. Thanda Private Game Reserve embraces the charisma and power of Zulu culture, incorporating its elements throughout the lodge to give you a first-hand experience of 'heaven on earth'.
By Carrie Hampton
Thanda (meaning 'love' in Zulu) is situated in Zululand, just twenty-three kilometers north of Hluhluwe, in the province of KwaZulu-Natal. It is tucked away in 6 000 hectares of thick bushland, traversed by the illustrious Big Five: lion, rhinoceros, elephant, buffalo and leopard.Currently the only game reserve in the world to hold exclusive membership with The Leading Hotels of the World, Thanda is situated in a low-risk malaria area and has been declared 99% malaria-free by the World Health Organization.
The nine luxury bush villas at Thanda's main lodge, take pride of place on the rise of a hill against the burning backdrop of the African sun. From a distance they look like self-contained households in the circular structure of a Zulu homestead. Each villa has its own private splash pool, viewing deck and sala (thatched outdoor daybed) from where you can admire the lush surroundings.
The non-electrified tented camp is built in colonial safari style, offering an authentic yet luxurious bush experience. The four luxury tents have viewing decks and en-suite canvas bathrooms. Public facilities at the tented camp include a dining tent, a boma area, a splash pool and an 'open-air' lounge with magnificent views of the reserve.The award-winning wellness centre's offers treatments draw inspiration from indigenous ingredients and natural approaches to healing. The Signature Treatments have been designed exclusively for Thanda and focus on restoring balance to both body and mind.Dining at both the tented camp and the main lodge combines the refinement of European cuisine with the flair of African flavours. Where you eat, however, is not restricted to the dining room: Thanda's intimate bush dinners and private dining options provide the perfect opportunity to nurture or rediscover romance.
View Thanda Private Game Reserve