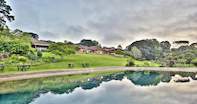 Durban is located in the Kwazulu-Natal Province of South Africa, and is renowned for its subtropical climate and breathtaking coastline. Durban is South Africa's third largest city in South Africa and access to the city is by road or air transfers.
Durban is a bustling coastal city, and often referred to as the busiest port of South Africa. Durban attractions include the warm beaches of the Indian Ocean, Durban Botanical Gardens, uShaka Marine World, Grey Street, Snake Park, City Hall and the museums of Durban. Some areas of Durban resembles little oriental markets where unique bargains are on display. At Durban, some of the best curries can be savoured at the many restaurants and eateries.
Durban accommodation in KwaZulu-Natal is offered at a choice of hotels and holiday apartments. Activities in Durban include water activities, sightseeing, beach leisure and many more. See below for exciting Durban holiday suggestions in KwaZulu-Natal, South Africa.
Guests looking for a KwaZulu-Natal country hotel will love the peaceful and tranquil ambiance of Audacia Manor. This gracious country lodge hotel in Durban is situated on the edge of the city...
more
The luxurious Makaranga Garden Lodge is situated in Kloof, a sub-tropical village in KwaZulu-Natal. Makaranga's philosophy revolves around providing an opportunity for enjoyment as w...
more