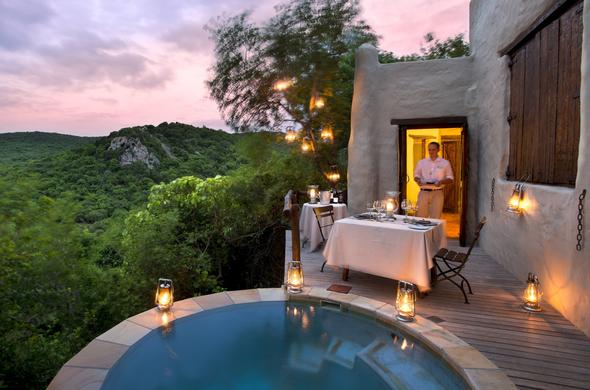 Encompassing 22 000 hectares of pristine wilderness, the Phinda Private Game Reserve in KwaZulu-Natal, boasts six lodges and one tented camp. Phinda's establishment in 1991 saw the transformation of thousands of hectares of depleted farmland into pristine wilderness and the introduction of a variety of wild animals in the biggest game relocation project undertaken by a private reserve in the world at the time.
By Carrie Hampton
Mountain Lodge is Phinda's largest safari lodge. Its twenty split-level suites are dramatically perched on the crest of a mountain in the Ubombo range. Wrap-around views are such that you need not move from your private veranda to be impressed.Shades of reds, browns and creams dominate the interior of the lodge, where avant-garde meets ethnic with a modern edge. This bold fusion of contemporary and tribal applies to the food too.The pan-African cuisine served here combines the best of traditional Africa with the adventurous tastes appreciated by a modern palate. Meals are served in a walled boma illuminated by dozens of candles and lanterns or in a clearing under a star-studded sky.
Phinda is famous for its bush banquets in unexpected settings, and guests are literally and metaphorically kept in the dark until they are asked to follow a lantern-lit path to tables that have been exquisitely laid for dinner.
Rock Lodge is set into a rugged cliff, permitting spectacular views of the surrounding mountains. Its eclectic design and decor hint at Malian and Spanish influences, with stone and adobe walls and wooden shutters creating a rustic feel. Each of the suites has a private plunge pool, which appears to be suspended over the deep valley.At Phinda the rangers are adept at sharing their encyclopedic knowledge in an inspiring way, especially on game drives during which guests learn about small animals as much as they do about big ones, like elephant, rhino, lion and cheetah.
View Phinda Mountain Lodge