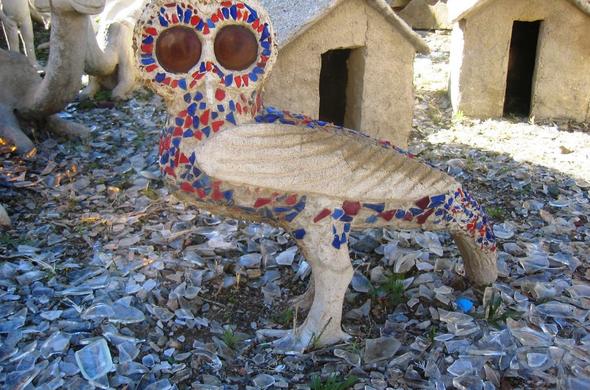 Before the wind-pump was invented in America in the mid-nineteenth century, the thirsty, southern heartland of South Africa's Karoo was home only to the springbok and the tortoise.
By Laurianne Claase
Migratory San (Bushman) moved through but did not tarry, stopping only to leave a record of their passing in
paintings on the rocks
. But, it was the windmill that by 1883 had made permanent settlement possible, if not hospitable, in this place of extremes.And with the hardy farmers and their sheep, came prospectors and collectors, visionaries and eccentrics, hunters, explorers and adventurers, attracted by the
vast expanses of aloe and acacia thorn
, hills and forgotten valleys, open spaces and star-studded skies.Unlike the ubiquitous windmill, fifty kilometres north of the
historic frontier town of Graaff-Reinet
, tucked away among the foothills of the Sneeuberg, is a less evident testimony to the Karoo's extraordinary past. Angora goats grow fat on yellow grass. Sisal plantations shoot drunken Christmas tree stems towards the windswept sky and ancient mountains, worn-down by time, raise their weathered brows and balding domes to the skidding sun.The dusty road bends into a blue bowl of hills and kopjes and suddenly in a hollow lined in yellowing poplar trees and willows, the geese have the right of way. Complete with white roses in the churchyard,
Nieu Bethesda is a little piece of England
hewn from these African badlands.Since Athold Fugard, the South African playwright, immortalised Miss Helen in his play The Road to Mecca, a modern day
pilgrimage to the Owl House
has revitalised the town. When not travelling abroad, Fugard is the village's most acclaimed writer-in-residence and is something of a self-appointed curator of its main attraction.Attendant now upon the tourists visiting the Owl House are
Victorian art and craft shops
and aromatherapists and artists ply their trade in town. The camp site, set in a green field behind a large Victorian house fenced in white roses, boasts artistically arranged hay bales around an antique ox-wagon.The coffee shop owner across from the Owl House is Swiss. He came on a visit and fell in love, left to settle his scores with his old life and returned to start a new one in Nieu Bethesda. Such cosmopolitan creativity is a far cry from the deeply
conservative, tight-knit community
who would have been Helen's neighbours in this isolated corner of the African outback.Born in December 1897, Helen Martins was the youngest of six children. She left home for a period, graduated as a teacher, married and moved away but by the 1930's she was back to care for her aged and ailing parents. He was apparently a moody and difficult man and she called him 'The Lion.' There are family photos inside the house of a cherub-faced Helen, her mother and siblings but there is no picture of her father. There is however a
poignant example of Victorian kitsch
as a woman holds her baby up to the portrait of a uniformed man. The picture is entitled Fatherless.Helen's mother died in 1941 and her father followed four years later. She
bricked up the sick-room's only window
, painted the walls black and smeared them with crushed glass. On the step outside she scoured 'The Lion's Den' into the wet concrete and thereafter used the room only for storage purposes. It was then, in her late forties, with few prospects of marriage or escape, that she began to transform her bleak and lonely surroundings and was to spend the next twenty-five years re-fashioning reality. In a cluttered corner of the Camel Yard outside, an old man stands with distended belly, hunch-backed and misshapen with his back leg still caught in the block of concrete from which he was fashioned. The
Lion's Den is now the reception area
for visitors to the museum.Today, the tragic and enigmatic figure of Helen Martins still haunts her astonishing creation, born from a potent mix of religious fervor, sex and death, Omar Khayyam and William Blake. The Owl House is an eerie and
evocative example of Outsider Art
- driven individuals, outside of mainstream art, who are compelled to express their intense personal vision with whatever comes to hand. Miss Helen chose crushed glass and concrete.Jonas Adams and Piet van der Merwe, local handymen, helped with the interior, mainly
replacing the windows with tinted glass
. The interior walls are painted in differing shades and all are encrusted in crushed slivers of colour. In the pantry, the ground glass stands in jam jars, waiting to be used.In the kitchen, oil lamps line the shelves, a silent stimulus to imagination. It is easy to
picture Helen sitting alone at night
, the flame-licked light leaping from the walls and door frames, ceilings and window panes. There is even glass on the wooden seat of a chair and over there a table springs from the coiled tail of a snake.In the kitchen, a black-eyed fish swims under the fire and sad-faced suns gaze into a room daubed in coloured light. Decaying linoleum covers the
worn wooden floor and battered cupboards
harbour jam jars and tea tins and owls.Next to the fireplace there is
a strangely disturbing reproduction
of a young girl with Pre-Raphaelite tresses, a breast peeping innocently from the billowing linen upon which she reclines, a book in hand. But as one looks closer one sees that it is a cave in which she is dallying and, unheeded, beneath the book she is reading, moulders a human skull.In the living room, an angel-winged Adonis bears aloft a swooning maiden as their lips move to meet. This motif pops up again in the Green Bedroom, but this time with an epithet entitled Reunion; 'Guess now who holds thee, Death, I said; but there The silver answer rang, Not Death, but Love.' Delicately posed Paris nudes daub the mirror in Victorian porn. In the Honeymoon Room, a radiant, Pre-Raphaelite, Christian martyr stands about to face the lions. Across from her, a toothy young matron in Dutch bonnet and smile is
set before the Voortrekker Monument
, ponderous testament to the bloody battle fought between pioneering Afrikaners and resistant Zulus.Then, an itinerant sheep shearer and builder named Koos Malgas came into Miss Helen's life and their association was to last until her death in 1976. Together they
planned the construction of her concrete creations
and Koos built her spoken dreams.Outside, ashen women with beer bottle skirts lean forward in welcome, their fingers pointing east.
Pallid mermaids beckon
from sun-dried pools, directing attention towards the pilgrimage behind them. Here there is a glass-daubed headdress and there a painted fez or beard and over there the sightless eyes are blue. Otherwise all is grey.Wise men and camels and buddhas and sphinxes, owls and pyramids and lotus-legged potentates face towards EAST in frozen adoration. The word is written on the wire fence somewhere near the rising sun. The Mona Lisas look on from the water tank in quiet resignation and the phalanx of owls on the window sill are stony-faced critics.
A nondescript grey owl
with red-rimmed, bottle-bottom eyes is tucked into a corner outside the kitchen. This is Oswald, Miss Helen's favourite owl.Beyond the wire fence and high walls of the Camel Yard with its 550 sculptures, the oaks glisten green and gold and give voice to the wind. Miss
Helen became increasingly shy
as as she grew older and shunned the company of other people. Finally, at the age of 78, with her eyesight failing and the light literally seeping from her world, she swallowed caustic soda.It was Koos that found her and local legend has it that being unable to speak
she wrote something
on a piece of paper and gave it to him. Koos, being unable to read, handed the letter to the local minister when he arrived to take Helen to hospital. He pocketed the note and
its contents remain unknown
to this day but cause for much speculation.It took Miss Helen three days to die. She left specific instructions for her burial, wanting her ashes to be mixed with ground glass and used to decorate Oswald the Owl. However, some years after her death, her ashes were finally sprinkled over the Camel Yard.
Oswald remains unadorned
.Copyright © 2002 Laurianne Claase. All rights reserved. Reproduction in whole or in part without the permission of the author is prohibited.