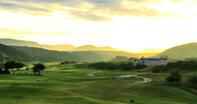 Alicedale is a small village situated on the banks of the Bushmans River in the Cacadu District Municipality in Eastern Cape, South Africa. Alicedale is a quaint little village located a few kilometres away from Grahamstown and can be reached by road transfers or railway safaris.
Alicedale is a renowned railway junction for Port Elizabeth and Grahamstown, and acts as an unique transit destination for those visiting the towns in the area or the Shamwari Game Reserve. Alicedale attractions include the Bushman Sands Reserve, New Year's Dam and the Bushmans River.
Accommodation in Alicedale is offered at luxury lodges in Eastern Cape. Activities in Alicedale includes walking safaris, game drives, river cruises and cultural tours. See below for Alicedale accommodation recommendations in Eastern Cape.
Bushman Sands Hotel comprises individual buildings around a pool area and overlooking the Bushman Sands Golf Course. Original houses form the cornerstones of what are now three rows of...
more