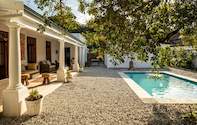 If you're looking for relaxing accommodation near Hermanus, look no further than, Lidiko Heritage House, situated in Onrus Beach, 6km from the town centre of Hermanus.
Why We Love it and You Will Too
Lidiko Heritage House has a wonderfully friendly atmosphere, all thanks to the dedicated staff who are always on-hand to help and who will always remember you by name.
If you're enthusiastic about history, you'll go nuts about staying in this old Cape-style renovated house that lovingly blends modernity with a bygone era. There's also a sparkling pool and loungers for warmer days and a fireplace for chilly evenings.
There are only five rooms which are elegant and incredibly spacious, with all the much-needed comforts to make you feel right at home.
Just the place to stay if you love waking up to the smell of the sea, a hot cup of fresh coffee, and a tasty breakfast served just before you head out to explore.
The location of Lidiko is tough to beat and you'll find yourself just a few steps from the beach, and just 6km from the centre of Hermanus, a hotspot for whale watching between June and December.
Your Lidiko Heritage House Hermanus Experience
The sun always seems to shine a little bit brighter at Lidiko Heritage House, and with its setting right on the beach, mountains rising up in the background, it's easy to see why.
Located slap-bang on Onrus Beach, just 6km from Hermanus, it cracks the nod as one of our go-to recommendations for those yearning to get in on all the whale watching action. During this season (roughly between June-December), Southern Rights and Humpback whales make a pitstop within the bay, to the delight of visitors near and far who can easily be heard squealing in delight as they witness the majestic displays of breaching, fin-slapping and lob-tailing.
While the whales are a huge drawcard for staying at this accommodation, what really makes Lidiko Heritage House so special is the staff, who help retain a friendly, welcoming atmosphere. What they offer is that true Western Cape hospitality that will quickly become a memorable highlight for ocean-loving travellers making their way along the Garden Route.
After spending the day on the road of busying yourself with all sorts of activities in the region, you'll crave coming back just to be greeted with a genuine smile, before heading to your room, chucking the keys on the table and plonking down on the bed. It feels like home, but still as though you're on holiday.
The staff are also always generous in their recommendations of restaurants to try during your stay in Hermanus, but breakfast is one meal that you should definitely opt to have at Lidiko. It is raved about by former guests, served on cue every morning, and if you're still milling around the house by the late afternoon, you'll also benefit from tea (or wine, if you prefer) served daily, right on cue.