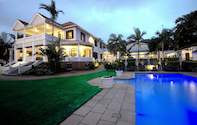 Audacia Manor Boutique Hotel is situated in Durban on a leafy hillside in the residential suburb of Morningside. It offers views reaching over the city and out to the Indian Ocean.
Why We Love it and You Will Too
Originally built back in 1928, this hotel stands as a beautifully restored colonial mansion settled on the slopes of eThekwini, or Durban, as we know it best.
Audacia Manor takes up a top location and you'll find yourself just a few minutes from the Durban ICC, Moses Mabhida Stadium and the 'Golden Mile', reaching along the main beachfront.
Need something specific? This Durban boutique hotel features a variety of room sizes and styles. Each comes with air-conditioning (ideal for that notorious Durban humidity), a king-sized bed, a mini-bar and satellite television. Be sure to book one with a balcony...
While you'll also be close to plenty of local eateries, you can also pick and choose from the Audacia menu for a quiet meal 'at home'.
The staff here are warm and attentive but will always make sure that your privacy and solitude is respected throughout your stay.

Your Audacia Manor Boutique Hotel Experience
Audacia Manor Boutique Hotel is the kind of place that you could easily return to on your annual holiday to Durban.
Established in a historical mansion amid the peaceful suburb of Berea, you'll quickly feel right at home and very much a part of the local residential community. Whether you're travelling with your family, a few friends, or just your partner, it offers everything you could want in a low-key yet personalised accommodation experience.
After a fresh morning coffee and brekkie on the main patio, you can easily kick-start your day down at the beach, or any one of the city's major attractions. The staff are always on hand to suggest some hidden gems if you're in need of some suggestion but if you're in town for business, you'll find yourself a mere a stone's throw from the ICC and other major office parks.
If you'd like to eat in for dinner, take up your seat at the elegant on-site restaurant called Eleven Room. The team at Audacia Manor is exceptionally skilled at coordinating all celebrations and if you're gearing up for a special occasion like a birthday or anniversary, they'll happily set up a private dinner or jazz up one of their event venue.