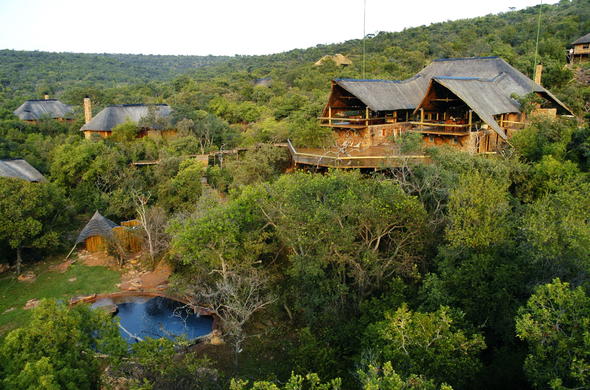 Sediba Private Game Lodge is located in the Welgevonden Private Game Reserve, one of the largest privately owned reserves in South Africa. It sprawls across 33 000 hectares of pristine bushveld in Limpopo's Waterberg region.
By Carrie Hampton
Inhabitants of this terrain include lion, elephant, white rhino, buffalo, leopard and antelope species such as sable, roan and gemsbok. Giraffe, warthog, black-backed jackal and brown hyaena also make an appearance, along with over 270 bird species.Presiding over this landscape are the two lodges that comprise Sediba Private Game Lodge - Letlapa and Letlapala. Letlapa, meaning 'flat stone' in Northern Sotho, is hidden deep in a valley graced with a perennial spring, while Letlapala is situated high up on a ridge overlooking the hilly surrounds.
High, thatched ceilings, open fireplaces, indoor and outdoor showers, private Jacuzzis and king-size beds are found in all fifteen suites at Sediba's safari lodges. The sheer power and immensity of this land must have inspired the architecture of Letlapa, as its ten suites are extravagantly large. The suites are linked to each other, and to the main lodge, by boardwalks.
Just a five-minute drive from Letlapa is Sediba's other lodge, Letlapala. It is the more intimate of the two lodges. Every aspect of the lodge's five suites is carefully designed to create a seamless flow between the interior and the exterior.This is best demonstrated by the bathrooms, which have indoor and outdoor bathing options. Freshening up takes on a new meaning when you have to choose between the sunken outdoor Jacuzzi, the indoor copper bath resting on a bed of pebbles or an invigorating outdoor shower.The guest experience at both of Sediba's lodges is enhanced by superlative service. Staff members are always there to greet you with a drink, a scented damp towel and even a song. It is they who create the welcome and their care is evident in a chocolate left on your pillow at night or a plate of tropical fruits offered with a smile.Sediba has created one of the most dramatic outdoor dining areas: great slabs of stone are arranged in a large circle around the dining tables. When the fire is lit in this boma and the flames light up the mountain in the background, it is indeed a perfect spot to sit with a bottle of full-bodied cellar wine and muse on the meaning of life.
Visit Sediba Lodge